Here is a ice cream of powdered Green tea.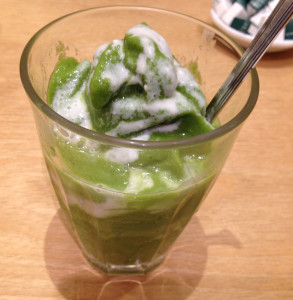 A generous amount of fluffy soybean milk is added on top of it as the final touch. Mom said, soybean milk and Green powdered tea are good for health, and such a healthy sweet is stress-relieving. She loves the healthy sweet. Oh, stress-relieving is necessary for me, too.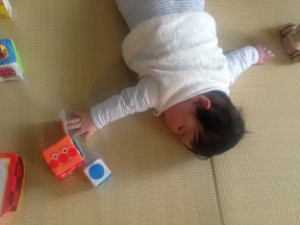 Friday is my graceful relaxation day by massage
I go to the Baby Yoga class with mom every Friday. Baby Yoga is a class where baby and mother do yoga together.
This is a class for babies aged from three to around ten months before walking.
Today is the first day of the Baby Yoga. What is the Baby Yoga class like ? I am excited! It is a small classroom, but it is clean.

We babies lay beside moms and saw them doing yoga.
My mom moves slowest of all moms. Mom, you lack exercise! What a shame!
I started to get bored.Yawn!

At last the main event "baby massage" began. Mom put oil on my whole body, and massaged me. I feel great!
The instructor said, "This massage is a kind of a whole body exercise for a baby. Maybe your baby will be tired and get a good sleep at night." 

Oh! I see.
That's why lazy mom goes to the Baby Yoga class with me. She is right.I slept after Yoga.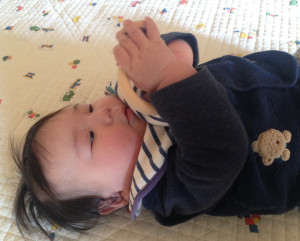 But I slept well as soon as we finished Yoga, so I was awake at night.
I'm sorry, mom.