You know what? Here is a snack shaped like a camera named "Taberun-desu Hi."  from Orien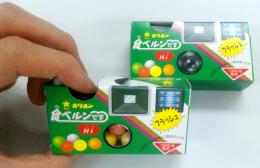 Reference   orionstar.co.jp/product/2012/04/hi
When you push the shutter button, lemon pops come out. Do you know this special camera with sweets?
This is a disposal camera used before a digital camera.

   Reference  ja.wikipedia.org/wiki
Japanese disposal camera was first made by Fuji Film Co., Ltd. in 1986 with the Quicksnap, named (Utsurun-Desu Hi). Snap-happy Japanese is putting away his conventional camera and switching to inexpensive and increasingly sophisticated disposables.

You couldn't immediately check the end result of a picture by the former camera. That means you don't know the end result even if you don't look good in a photo.
But recently a digital camera is convenient; you can choose only your favorite picture and print it out.

My family had a picture taken by a professional photographer last Sunday. It is my ceremonial photograph.
Mom got dressed up in kimono, Dad wore a suit and I was fully dressed, too.
The photographer took a lot of pictures of us by a digital camera.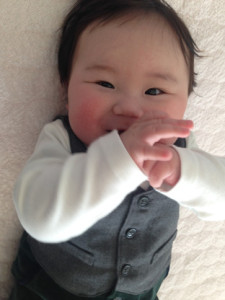 Our photo shoot finished smoothly and we began to choose the image.
"How handsome I am!" I thought mom would choose the picture in which I look the most handsome.
But, mom chose only photos in which she looked nice.
Mom said, "If I didn't look beautiful in a picture, Yushi would be disappointed in the future."  No!
I don't care whether she looks nice in a photo or not. That I look handsome in a picture is more important.
Parents were absorbed in choosing the photographs. They seemed to forget completely that I was today's hero.